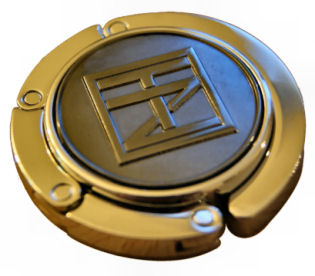 Dimensions:
1.75" diameter
Available Colors:
Duotone Silver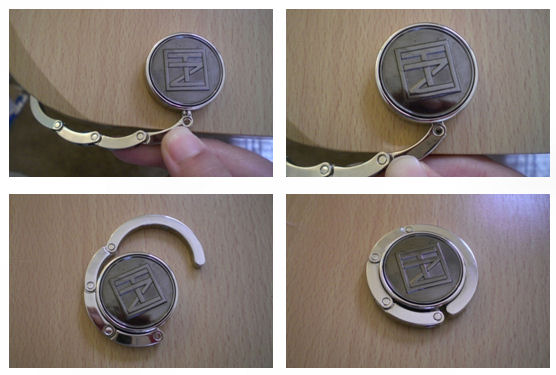 PRODUCT INFORMATION
Taryn Zhang monogram medallion

.


Wrap-around magnetic prongs.

Non-slip padding under medallion.

Base metal: black nickel- and nickel-plated steel.


Hangs handbags up to 13 pounds.

Each hanger comes in its own 2.4" x 2.8" black drawstring velveteen gift bag.

Includes complimentary 5.3" x 5.7" microfiber cleaner cloth for polishing the purse hangers. Color options: celadon green, pale pink, blue topaz, or daffodil yellow.


Made in Taiwan.

$18.50
T A R Y N Z H A N G
M O N O G R A M P U R S E H A N G E R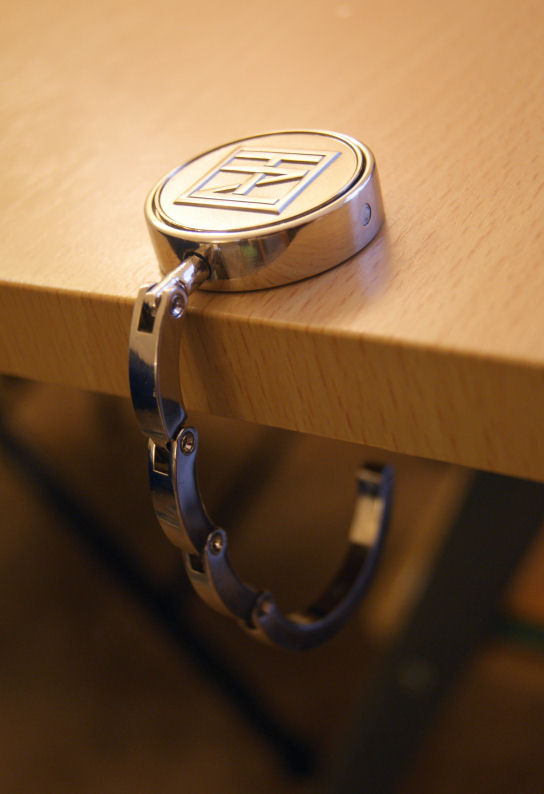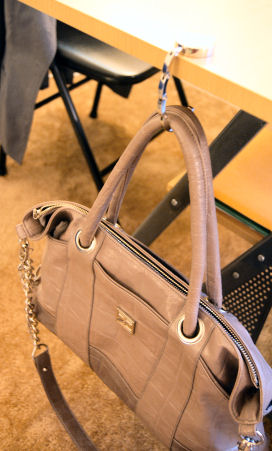 Why would you ever
set your handbag on the dirty restaurant floor? Use your trusty Taryn Zhang purse hanger! This monogram purse hanger wraps itself into a handsome, compact medallion. Keep it sheathed in the complimentary velveteen drawstring bag and take it with you everywhere. Durable but lightweight, this purse hanger is perfect for the woman on the go. Anything under 13 pounds will hang snugly and securely.

Rather particular about smudges and fingerprints, are we? Same here. That's why every purse hanger also comes with a microfiber cleaner cloth to keep your hanger polished. The cloth can double to clean your glasses and sunglasses, or wipe away smudges on your electronic mobile devices. Microfiber cloths come in a random selection of celadon green, pale pink, blue topaz, or daffodil yellow.
Note.
We strongly advise you
not
to hang laptops or pets off these purse hangers. We do not care how many pounds under 13 your chihuahua weighs; please do
not
use these to hang pet carriers.